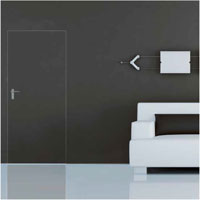 "DISCRETE INTERIOR DOORS" - the trend for a timeless interior style with a sleek and minimalist design. With its invisible door systems Argent Alu responds perfectly to this trend.
Thanks to these systems, closed doors and walls constitute one whole: the disturbing frames disappear, while the hinges are mounted in such a way that from the outside they are no longer visible. Argent Alu offers an 'invisible' solution for revolving doors, pivoting and sliding-in-the-wall doors.
WHAT ARE THE BENEFITS?
AESTHETICS
no visible frame around the door
supplied as standard with a primer coating
optional powder coating (in all RAL colours) available upon request
EFFICIENT INSTALLATION
option of fitting: before or after plastering
units are supplied with special hinge caps in the cut-outs for protection during plastering
CAN BE APPLIED UNIVERSALLY
for all standard and non-standard door openings (new buildings and renovation)
for standard rebated doors
for both brickwork and gypsum board walls (metal stud and CLS frames)
PLASTER CRACKING IS PREVENTED BECAUSE OF:
sturdy frame construction (integrated corner connection)
stable profile
direct, sturdy and easy mounting on walls by using screws or stone anchors
good adhesion of the plaster work against the profile thanks to the special dovetail profiling
DIMENSIONS
doors at room height
you can easily adjust the upper profile (width) by sawing/adjusting as needed
Visit ARGENTA here www.argentalu.com